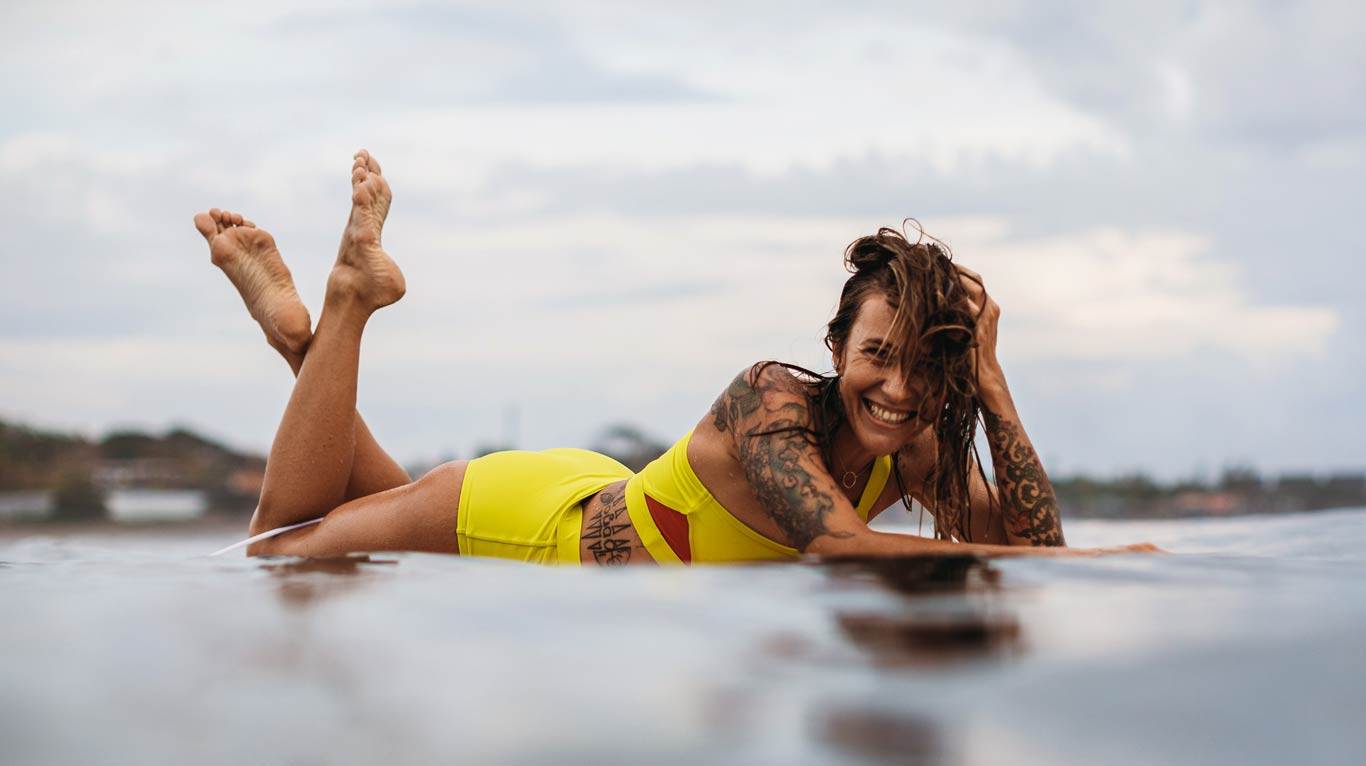 It doesn't matter how "land locked" you are. When there's an itch and you are being called, there's no escaping but a will to surrender to her energy and beauty...
Name: Iren Oraylie
Date of Birth: January 17
Home Break: Old Mans, Bali

FLKLR board of choice: MarMar 9'3"

Instagram:@oraylie

We first learned about Iren from our good friend AKA Surfing lens. I think needless to say, there was a match between FLKLR and Iren. She is a big advocate of the Ocean and wants to empower good surfing and etiquette among her fellow surfing community. This is her story...
I grew up in Russia thousands of kilometers from the ocean, any ocean. Since childhood, I felt myself belonging to the water. I used to swim all year round either in a pools and rivers. At age 21 I was lucky to spend a week in Hawaii, where I tried surfing for the first time and since then I've been hooked.

I wanted to live an endless summer and to surf every day, so I moved to Bali at age 24. Since that time I traveled around Asia, Europe, and Africa, and even surfed in Russia Far East, but every time I'm coming back to Bali, it feels like home.
WHO'S STYLE DO YOU ADMIRE THE MOST?
As a longboarder, I pay more attention to those who surf log as well. Kassia Meador is for sure the most inspiring person for me, not only for her style in the water but her attitude towards life. I always hold my breath when I see how Alex Knost dance on the waves - big wave surfers too. I don't understand them but admire them a lot. Keala Kennely is a superhero.
Good Ideas. I feel so excited when a new idea comes to my mind, and since I believe everything is possible in our world, the crazier the idea is, the more I'm inspired to make it come true.
NO SUNSCREEN OR UNDERWEAR?
Well… I can answer Yes and No for both. Mineral sunscreen such as Zinka protects my face from aging, so I use it. But the chemicals in regular sunscreens kill the reef, so I'm using long sleeves clothes instead. As for underwear, dresses in Bali are too short to go without panties, but for braless life – definitely Yes!
Your heading text goes here
Your heading text goes here